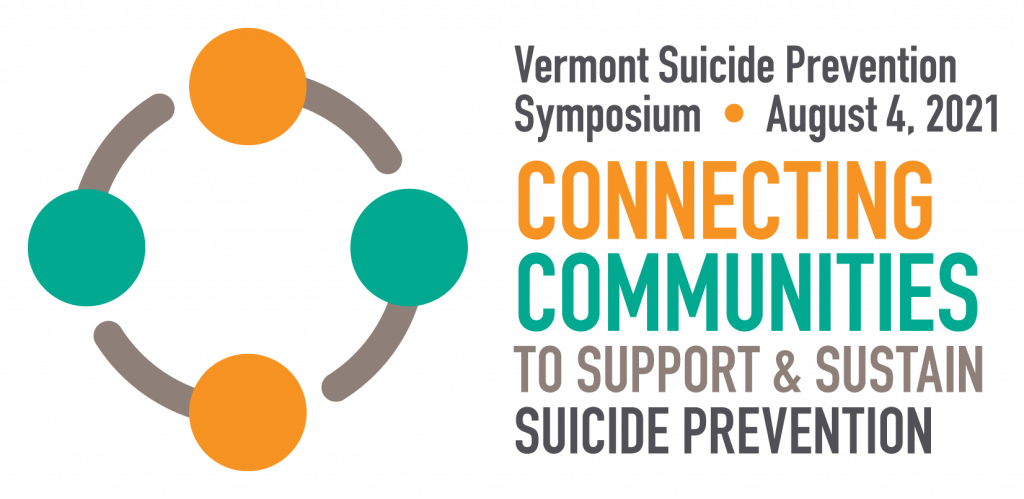 Offered Virtually Again This Year!
August 4th, 2021 — 9:00 AM to 4:00 PM
Tickets are $99 per person. Scholarships are Available!
Each ticket enables one user to access Symposium virtual content during the live event, and recorded content after the event.
Bulk tickets available at a reduced price. Scholarships available for those who need them. Apply for a Scholarship Here.
About the Symposium
The Vermont Suicide Prevention Symposium 2021 brings together stakeholders to facilitate collaborations to strengthen suicide prevention. This year, "Connecting Communities to Support and Sustain Suicide Prevention" includes tools and approaches for promoting connection and sustainability, and to inform policy and practice. Keynotes and workshops focus on co-ocurring disorders, support for at-risk populations, youth and schools, and using lived experiences ln prevention.
The Symposium benefits anyone with an interest in learning more about current and forthcoming resources, best practices and ongoing conversations surrounding suicide and self- harm prevention. This includes and is not limited to those with lived experience, advocates, professionals working within healthcare, social services, substance misuse programming, mental health services, youth and family engagement and anyone who wants to get involved in this important work.
Keynote Speakers
Vermont Suicide Prevention Symposium 2021, Connecting Communities to Support and Sustain Suicide Prevention is honored to showcase these amazing presenters at this years VIRTUAL event! In addition to the diverse and talented Keynote speakers, we have carefully selected additional presenters with a wide range of expertise speaking about their life experiences.
FREE Webinars
Suicide Deaths in Vermont:
The Intersection of
Mental Health Challenges,
Lethal Means and Biological Sex
Presented by: Tom Delaney, PhD and Caitlin Quinn, MPH
This presentation will focus on the interaction of key factors seen in people who died by suicide, including the person's history of mental health challenges, the lethal means used for suicide, and their biological sex.
*You must register for this webinar to participate.
Sustaining Yourself At Work
Presented by: Amelia Franck Meyer, Ed.D, LISW
This training will provide an understanding of how to sustain yourself in the work by providing key learnings and mindset shift.
*You must register for this webinar to participate.